MARSHALL LAKE COPPER ZINC SILVER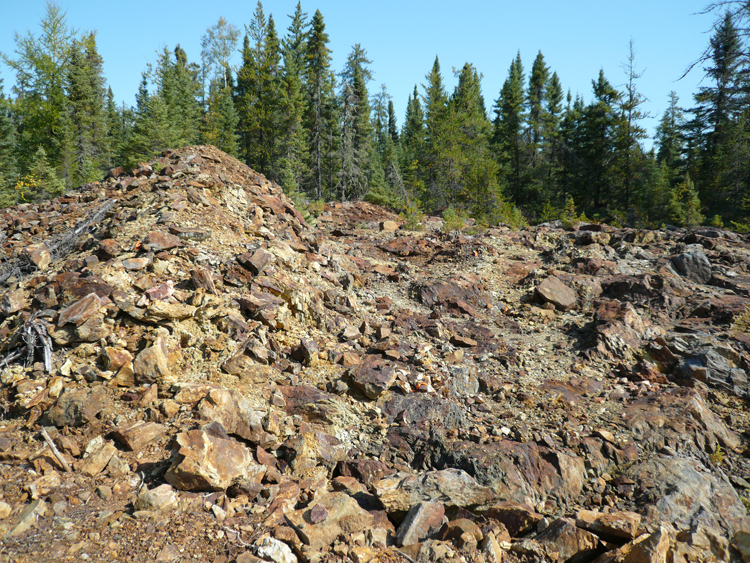 Marshall Lake VMS Copper Zinc Silver Project: Open Pit Showing
Copper Lake Resources holds a 79.45% interest in the Marshall Lake VMS Copper Gold Project.
Year round road accessible VMS Copper, Zinc and Silver project (Volcanogenic Massive Sulphide.)
Located 250 kilometres north of Thunder Bay, Ontario, Canada, the bulk of the property is 25 kilometres north of the Canadian National Rail and is accessible all year round.
Access to the smaller northern part of the property less than 3 kilometres from the heavy duty Ogoki road, a key Ontario development access route and integral to provincial plans for the development of "The Ring of Fire" deposits to the north.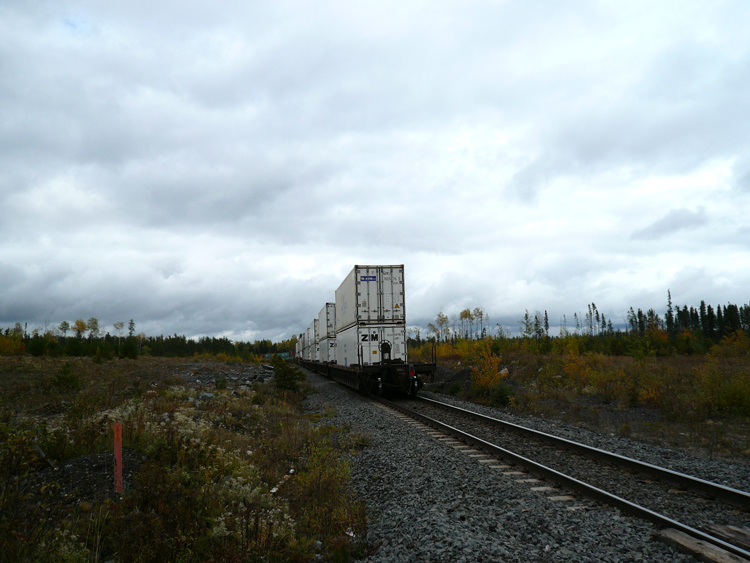 CNR Rail South of Marshall
The property consists of 44 claims with an area of 8,864 ha and 89 leased claims with an area of 1,566.167 ha for a total of 10,430.17 ha, or 104 square kilometres. The leases have a 21 year term. All of the leases have mining rights and many of the leases also have surface rights.
Between 1954 and 1996 exploration at Marshall Lake project was subject to difficult access. Notwithstanding the logistical issues during this period a sequence of high grade near surface copper, zinc, silver and gold discoveries were made. Those discoveries were made primarily from "Following" surface showings and then confirmed by shallow drilling.
Since 2005 the introduction of all-weather logging roads to the property has enabled the deployment of heavier equipment. In light of these significant logistical changes exploration efforts were stepped up in late 2006 resulting in a series of major near surface drill tested discoveries targeting 100m below surface. Those discoveries include Gazooma (2005/6), South Billiton (2006/7), Teck Hill (2007/8), Cherry Hill (2008) and the RM zone (2009/12). The quantity of near surface discoveries then begged the question "Is there a bigger VMS feeder plumbing system at depth?" It is now Copper Lakes intention to start to answer that question.
Based on the 2006 to 2012 discoveries in 2014 the Board of Copper Lake took a strategic decision to appoint two independent consultants to conduct an independent review the project. Caracle Creek who were responsible for the geophysical analysis and Orix Geoscience the geology, data collation and assembling the data into an integrated project wide database.
As a consequence of that process Copper Lake believes it has a working property wide geological model for the project subject to localized movement.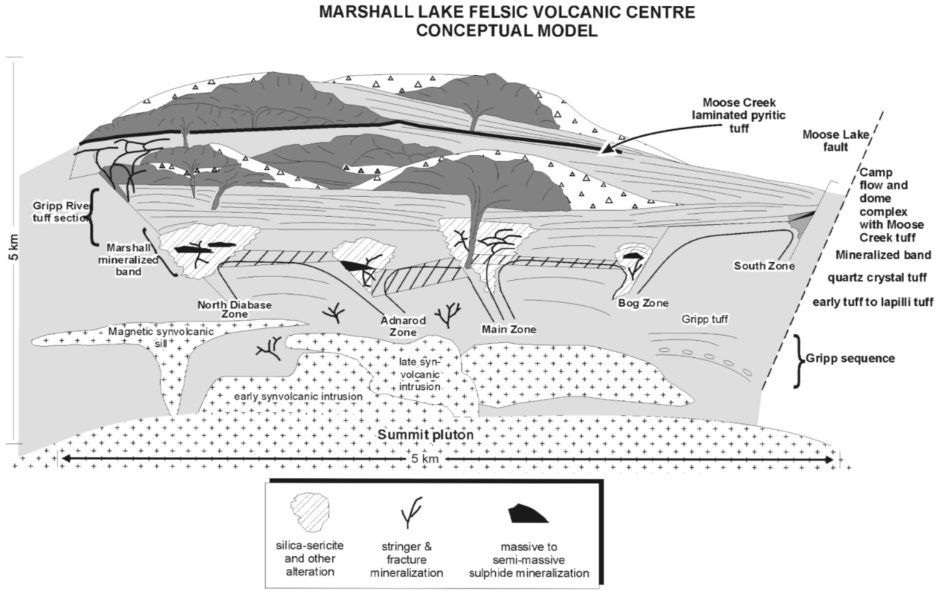 The Caracle-Orix report was based on:
A database of 181 holes drilled between December 2006 to March 2012.
178.9 line km of VTEM airborne data covering 22.8 sq. km,
Two ground magnetic surveys: the first covered the D Zone, Open Pit and Main Zone totalling 106.8 line km, the second covering Teck Hill totalling 25.1 line km, giving a grand total of 131.9 line km.
Induced Polarization survey covering: Gripp Lake West, the D Zone, Main Zone, Open Pit, Gazooma and Teck Hill.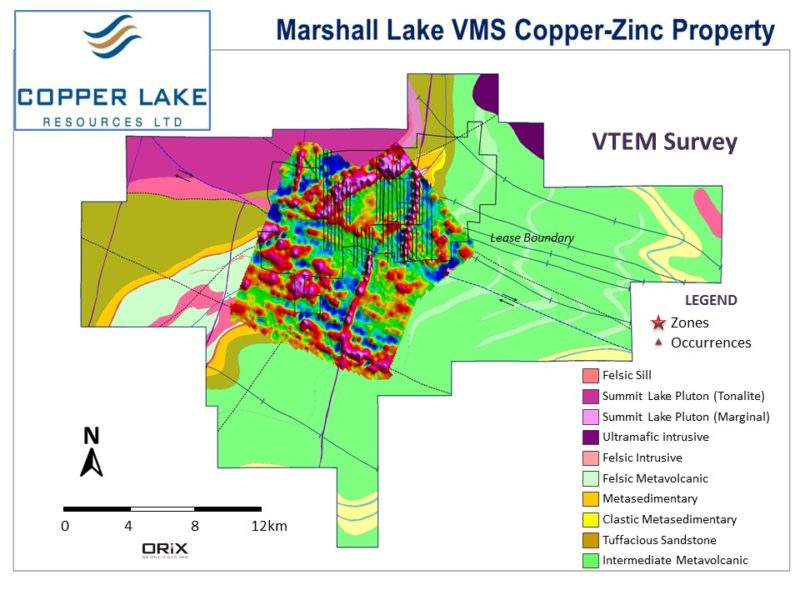 Based on the data above the Caracle-Orix report identified 7 of the highest priority targets within the historically focused on core 22.8 sq. km exploration area.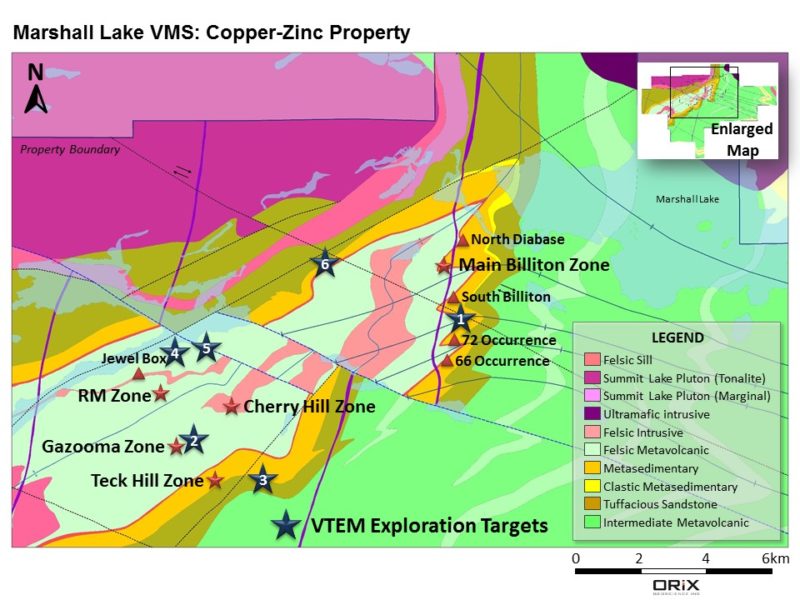 That Caracle-Orix report highlighted the significant potential of reprocessed VTEM data due to software improvements made in the last decade which deliver "Digitally Cleaner" data by filtering out "Noise." This now enables much better geophysical visualisation permitting "Sight" down to 150-180 metres rather than the 100 metres historically.
The Caracle-Orix report identified 7 of the highest priority targets within the historically focused core 22.8 sq. km exploration area. Based on this in July 2016 the Board of Copper Lake commissioned two further geological and geophysical reports incorporating a larger 1308.0 line km of VTEM data covering 196.5 sq. km plus a further 200 plus older previously un-digitised drill holes. Based on those reports the Board is setting the priorities on how to move the project forward.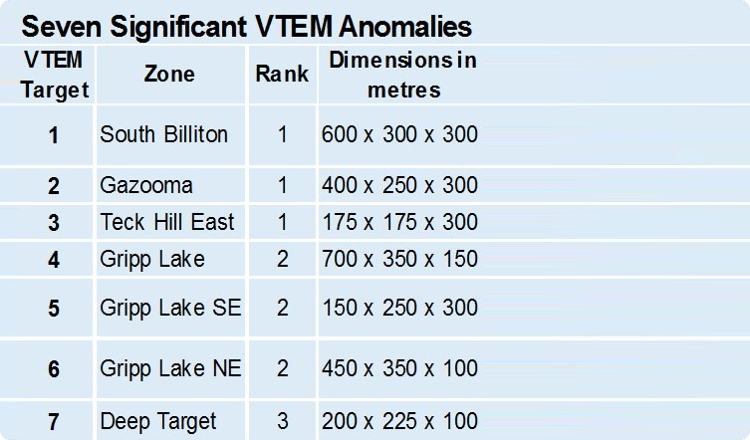 Showings and Drill Discoveries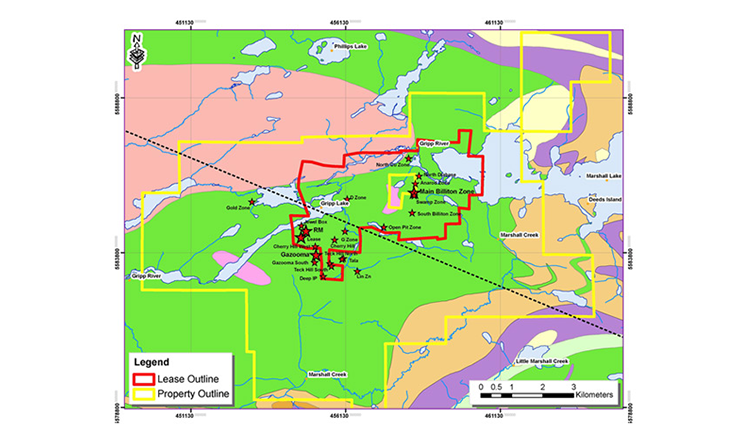 NI 43-101 Technical Reports

Download: Marshall Lake NI 43-101 technical report Jan 2010

Download: Marshall Lake NI 43-101 technical report June 2016
Aster Satellite Based: Long Wave Infrared(LWIR) & Synthetic Aperture Radar(SAR) Survey

Download Map: Distribution of Multiple Metal Group Anomaly Areas

Download Map: Copper Discovery Group Anomaly Areas

Download Map: Copper-Zinc Discovery Group Anomaly Areas